How it Works
SkillsDB provides a versatile software platform to evaluate the competency levels of current and new staff, match training resources, and speed up the growth of your workforce.
Employees Fill Out Their Own Skills Matrices
Once the organization's competency framework is in place and uploaded into SkillsDB, it's time to send out to the team and get their input. Employees quickly run through their skills and rate themselves, as well as add additional skills not included they may have experience with. This is a quick and painless process for them, but typically requires concerted effort to get complete.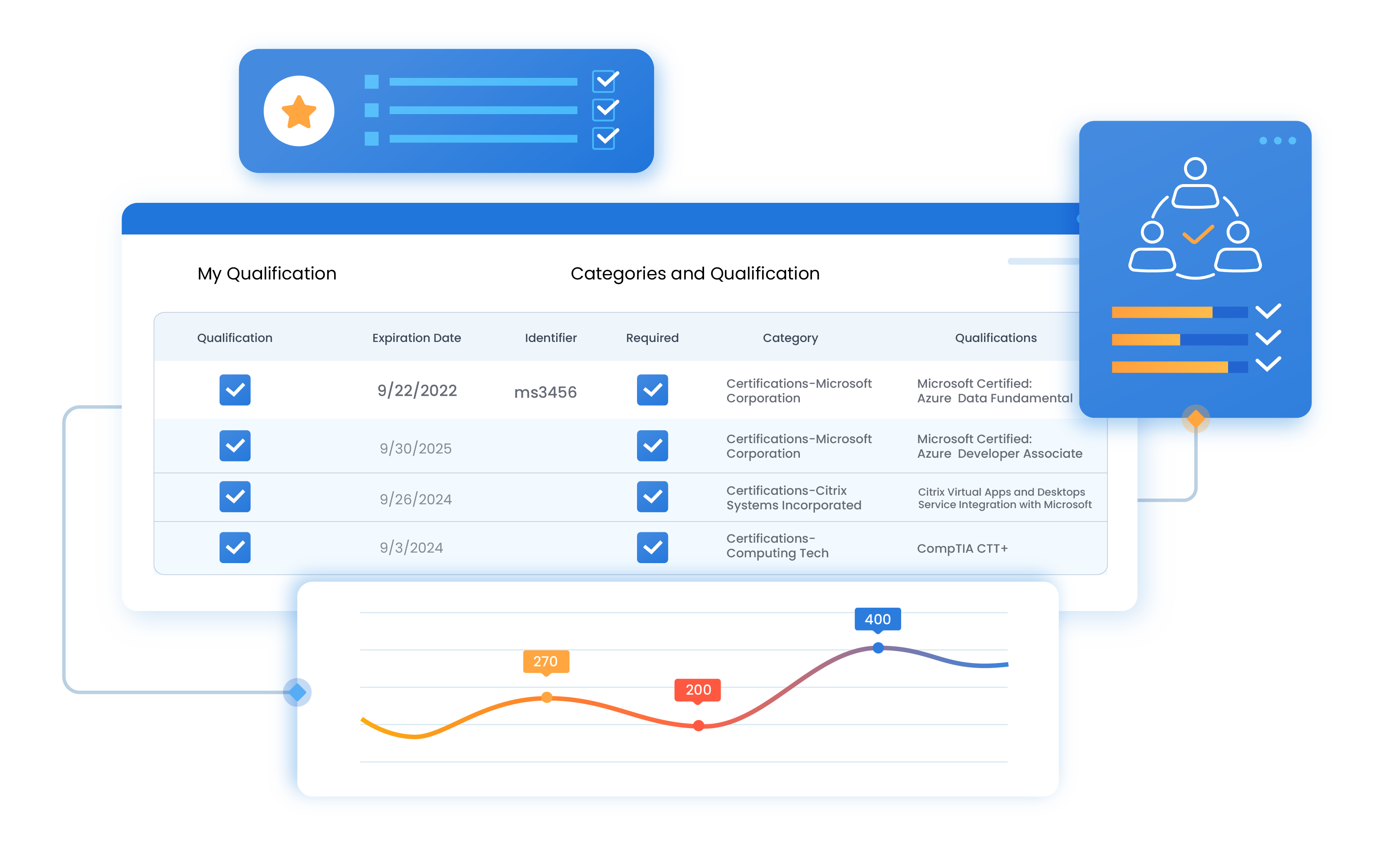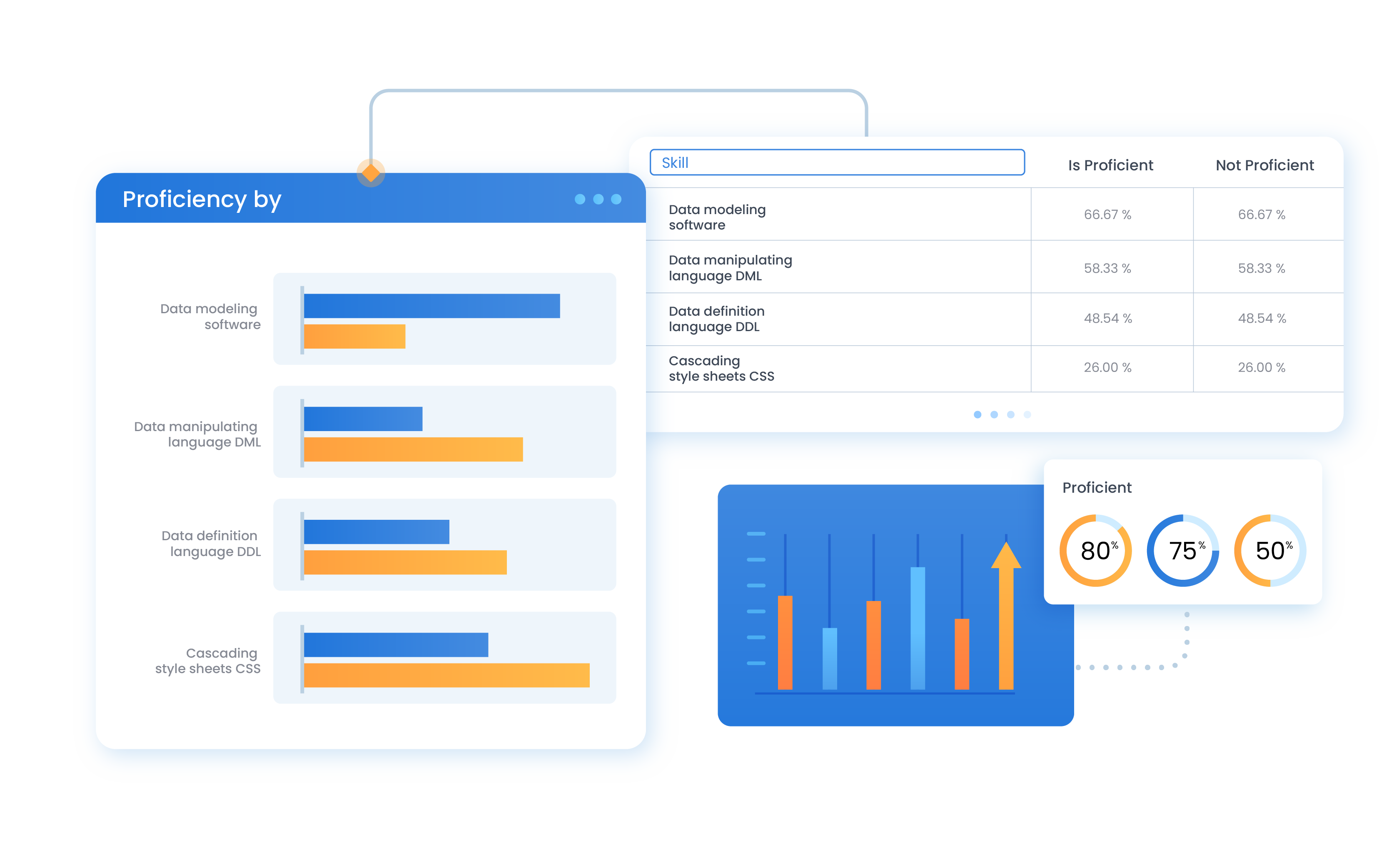 Managers Score Their Employees
Managers then can review and update each employee's skill scores and attributes, for employees assigned to them. Employees never see the manager scores assigned to them. Once complete, the manager can create a report and use for an excellent baseline discussion with employees during performance reviews. The key difference here is that it is based around expected skills and proficiencies backed by data, rather than a bunch of subjective possibilities.
Skill Gap Analysis for Employees, Managers, Executives and Admins
Need to find people with a certain skillset? Or maybe you need to see who can be trained to meet the challenges of the next job. Take a precise look at where your people stand in each skill, show how many are ready for the job right now, and who can be trained to meet your needs. The skills gap analysis is the basis for so much critical personnel management.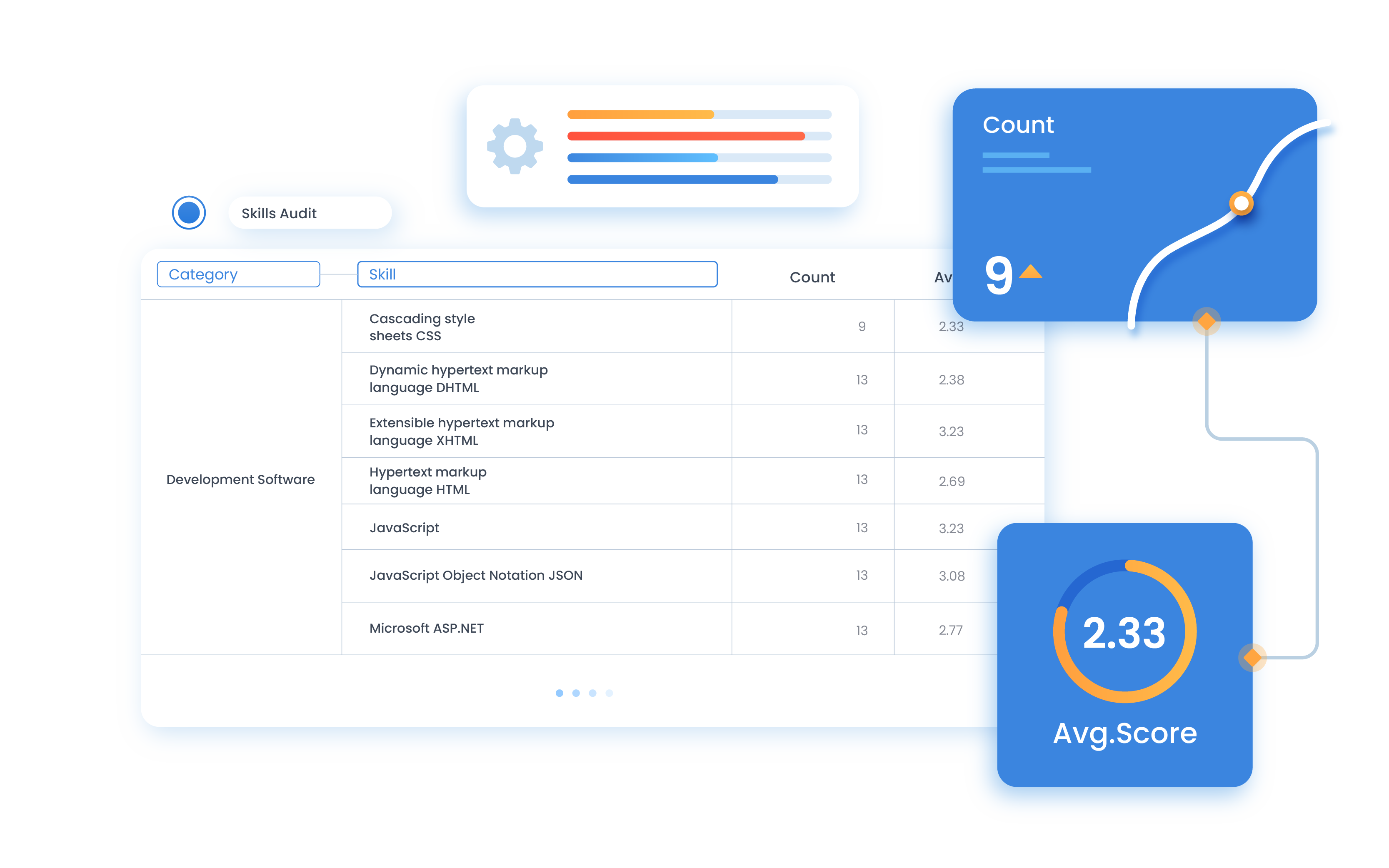 Recommended Learning Plans
SkillsDB generates recommended learning plans for every employee based on their job roles, skills, scores and certifications. It the creates a set of recommended learning activities tied to the company's learning catalog (including LMS, and/or custom content). This becomes the basis for the individual development plan (IDP), creating a personalized learning path.
Connect Learning Plans with IDPs
An employee or manager can add courses into the employee's learning plan, and get a set of tools to track their progress as they go through the courses. Think of a mini-LMS. Additionally, custom learning plans can be created that include on-the-job training, mentoring or other things traditionally outside of the purview of what is considering learning.
Career Development
With SkillsDB, you can identify who is close to having the necessary skills to fill an open position. Compare the employee's scores with those needed for their next promotion. This gives employees a roadmap of what is needed for improvement, and gives the organization a starting point for discussing their career path in the company.
Find an Expert
If you have an upcoming project that needs to be staffed, SkillsDB can direct you to the right people. You can search your employees based on skills, competencies, roles and certifications, giving you the power to assemble the perfect team. In the near future, you'll also be able to find a mentor or sign yourself up to be a mentor, and be searched for by mentees.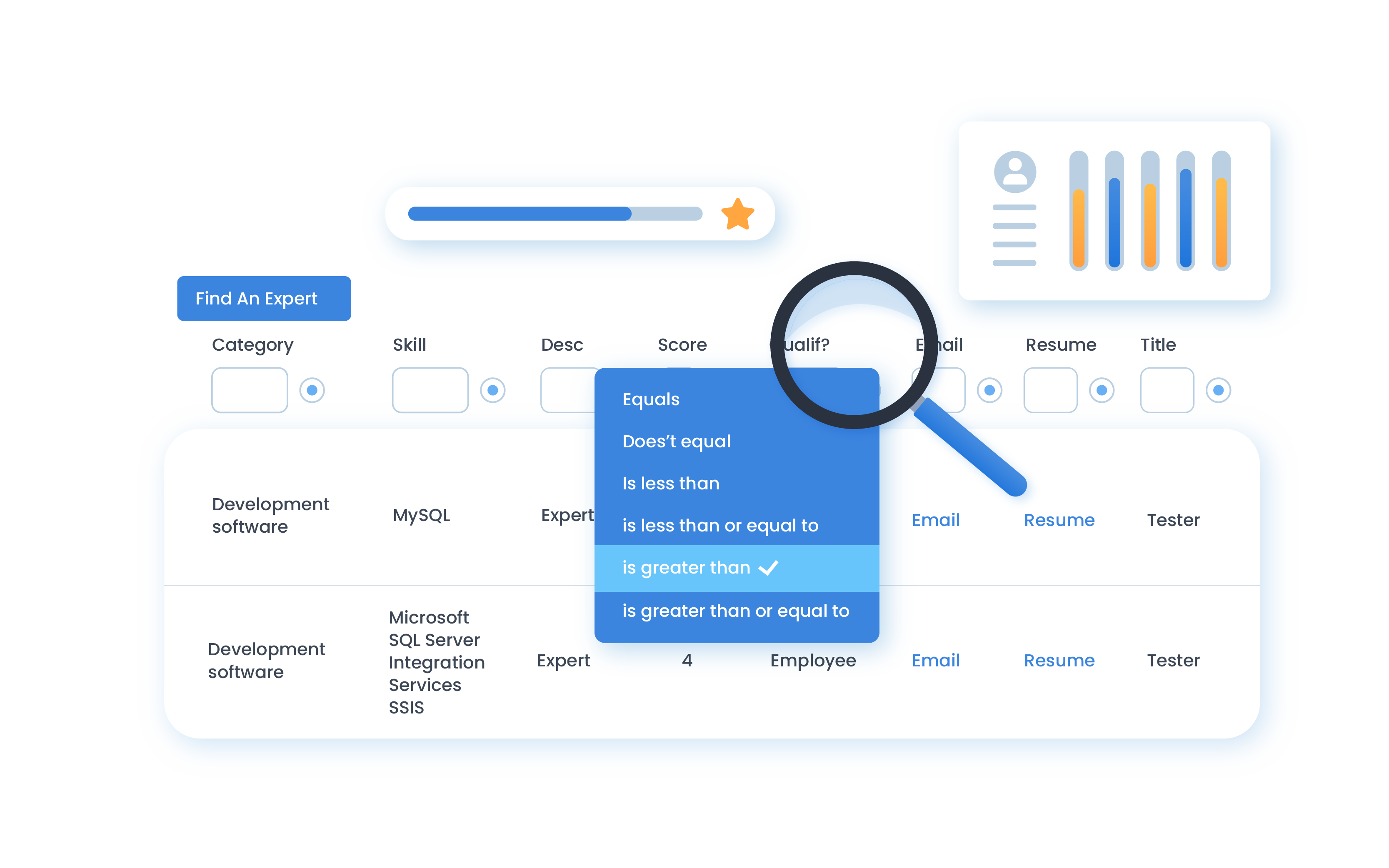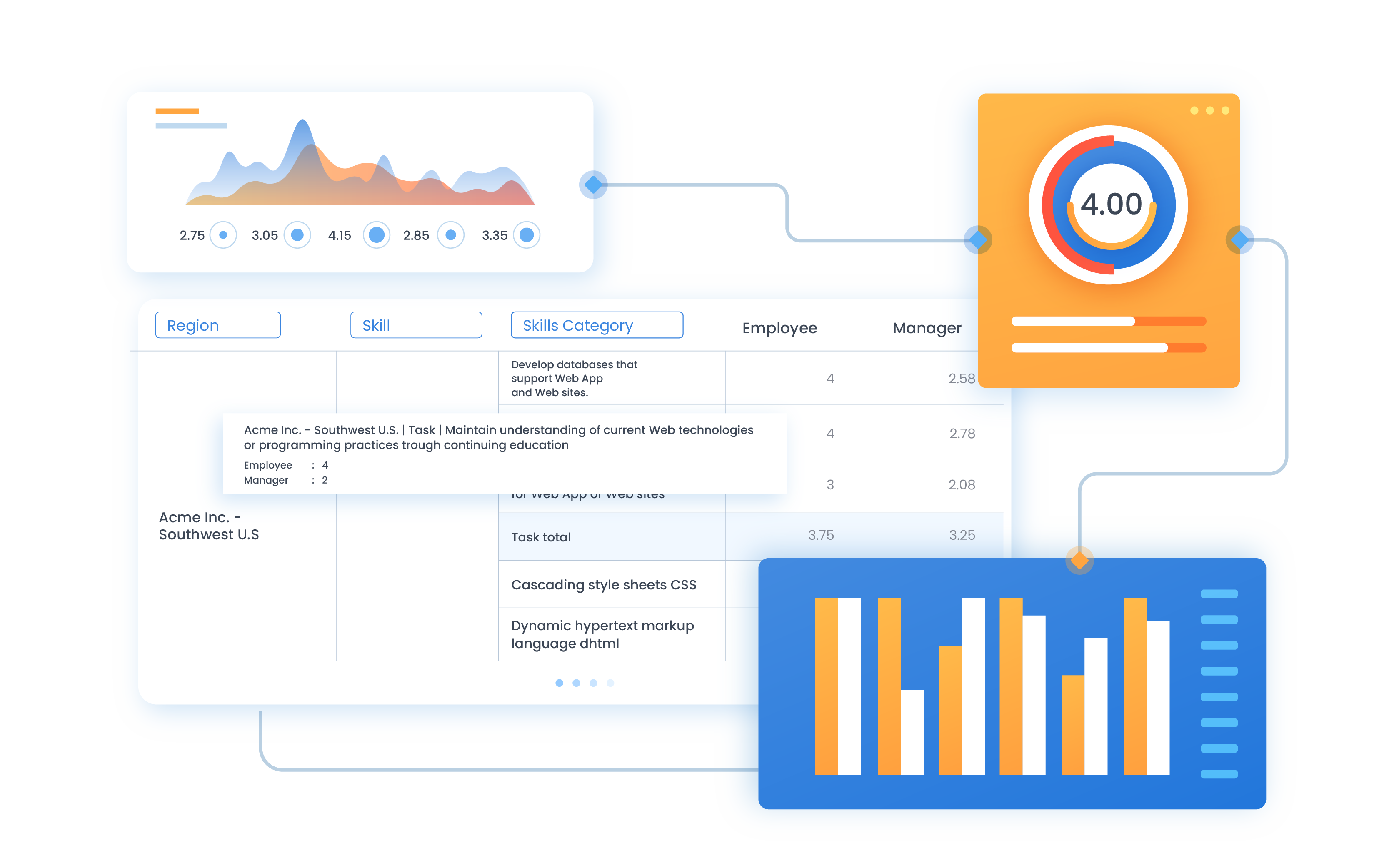 Report Building
Advanced analytics allows filtering by skill, category, location, department or any other area in SkillsDB. Once the desired data set is honed, drill down into it by running reports, or creating a skills matrix. This provides granular power to evaluate your team's strengths and weaknesses, showing just how to prepare for the next project.
Dashboards
The main SkillsDB dashboard keeps you updated on all team skills in one glance. You can quickly see how engaged your people are, as well as the skills for which your people are most proficient. Training needs are another key element of the core dashboard, identifying skills that are important to your business for which your people are least trained. The result of this analysis is presented in charts to make it easy for you to pinpoint your most pressing training needs, and use this data to make training decisions that have the highest impact on your organization.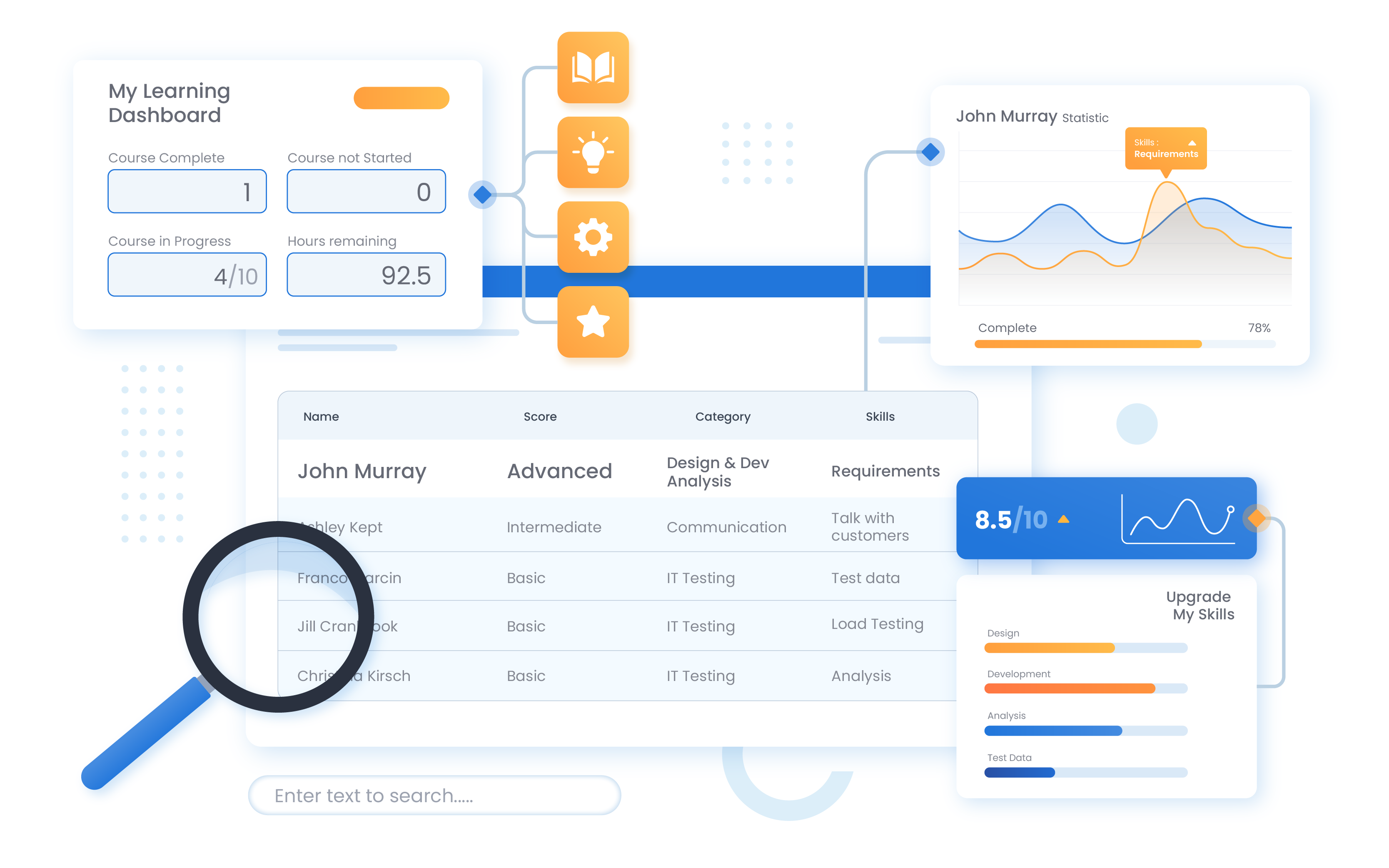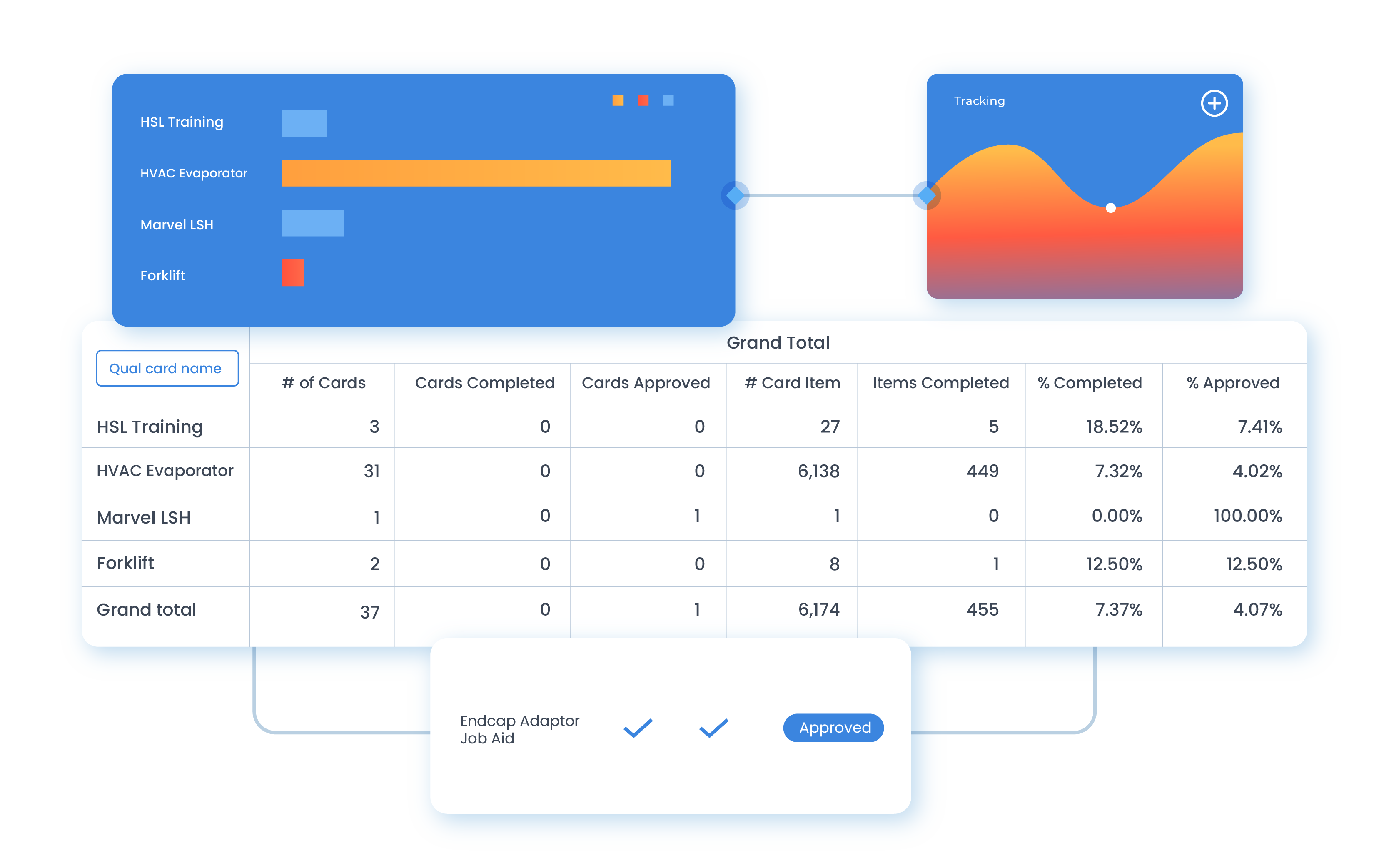 Other Compelling Features
Almost every page and report can export into Excel or spreadsheet for customized reporting. Most key inputs can be imported into SkillsDB by CSV for connection and integration with the HR, accounting, LMS and project management systems. All searches can be saved, including job searches and identifying qualifying resources. There really is so much functionality in SkillsDB. You should let us give you a demo!
VALUE PROPOSITION
Tie in with SkillsDB to maximize your organizational talent
Align the organization with its employees to do the best work
Ensure the right people are in the right roles, with measured performance and growth
Offer employee development plans with skills gap analysis and recommended learnings to aid career development
Report organizational team strengths and weaknesses to management with structured regularity
Drive recruiting, hiring and succession planning with deep people data
Manage talent proactively so the team can focus on its critical day-to-day responsibilities
WHITEPAPER
Get our free whitepaper on the importance of skills management
Download A Sophisticated Understanding of The Impact of Skills Management On Business Performance to better understand its effect in four key areas for your organization.
Welcome to your hub for employee success